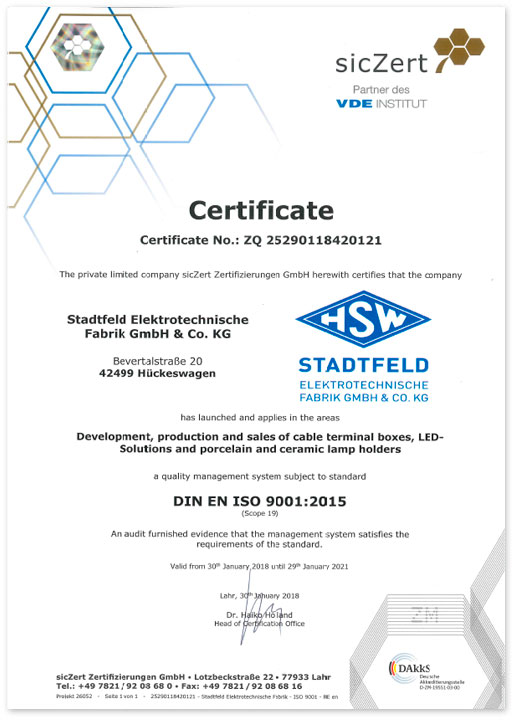 DIN-EN-ISO9001-2015
Quality
In order to reach our goals in the long run and to continuously develop ourselves further, we at HSW Stadtfeld have already implemented a quality management system back in 1997. Since this implementation, HSW Stadtfeld has been DIN ISO 9001 certified throughout.
We at HSW Stadtfeld are convinced that the management standard in the field of quality best reflects our thinking, as it has been our great aspiration since the company was founded to manufacture high-quality products. We set the highest quality standards for our materials and products. Therefore, we carry out regular quality controls. In addition, it is our aim to maintain and develop long-standing and cooperative relationships with our customers.

Any questions?
Just give us a call or send us an email.
Cable junction boxes
Your contact person
Christian Tilch
Office duty
Phone +49 2192 9166 0
hsw@hsw-stadtfeld.de
Pole mount sockets
Your contact person
Christian Tilch
Office duty
Phone +49 2192 9166 0
hsw@hsw-stadtfeld.de
Control technology
Your contact person
Michael Mach
Office duty
Phone +49 2192 9166 0
hsw@hsw-stadtfeld.de
Light
Your contact person
Michael Mach
Office duty
Phone +49 2192 9166 0
hsw@hsw-stadtfeld.de